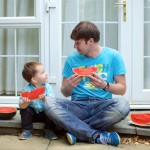 As you probably know, I am a dad of two boys: Max and Alex. One fact about my children that I love to tell people is that they were born on the same day, two years apart.
The main reason why I publish only easy-to-do activities and crafts is that I am a lazy parent. I don't want to spend more than 5 minutes preparing an activity – and that way I can spend hours enjoying the actual activity with my kids.
I am the kind of person who does research for days before buying anything. But I never know for sure if my choice is right until I get my hands on my purchase. I have a number of toys at home that I don't think are good enough to publish here.
what I like:
matching outfits with my boys,
innovative toys,
birthday cakes.
what I don't like:
being late,
slow internet,
small talk.
Finally, I would like to apologise for my English. It is not my first language, as you can probably tell when you read my reviews.
Once again, I cannot tell you how much it means that you follow me and continue to like my posts. I really love interacting with you all and I will never be able to thank you enough